What Is It?
The HIGH WATage Crew Program at WATS 2022 Cabin Crew Conference is aimed at providing visibility, voice, development, and a spotlight on the next generation of high potential Learning Professionals within the Cabin Crew/Inflight Training community.
Each member of the HIGH WATage Crew program will receive:
A special conference rate of only $200 (normally $530).
An interactive HIGH WATage Crew session with Cabin Crew conference Leadership and Training Aviation Leaders.
Reserved seating during all Cabin Crew conference sessions.
Unique development and benchmarking activities with peers, learning leaders, and vendors.
Opportunities to build professional relationships with other HIGH WATage Crew members.
Participation in "reverse-mentoring" activities.
Visible key roles with speaker introductions during the conference.
An opportunity to research and propose a real-world aviation training solution during the conference.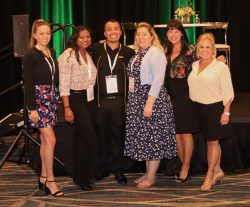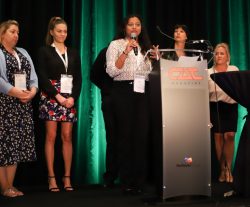 2022 Crew Leader – Nicole Claus
Nicole Claus, Inflight Training Senior Instructor at Southwest Airlines, will be your 2022 HIGH WATage Crew Leader. As a member of the 2019 Crew at WATS, Nicole is excited about the opportunity to Lead the 2022 program. Nicole is currently based at LAX and has been a Flight Attendant since 2004. She became a SWA University Instructor in 2014.
What Alumni Say
"The HIGH WATage Crew program was a great way to connect with industry peers and share insights regarding unique challenges we are facing in the aviation training industry." Melissa M. 2019 HIGH WATage Crew
"As someone new to the aviation industry, WATS was a valuable opportunity for me to learn new tool and ideas from industry experts that I can implement in my role as a Learning Multimedia Developer." Lauren T. 2019 HIGH WATage Crew
How to Apply
Want to be part of the HIGH WATage Crew Program for WATS 2022?
HIGH WATage Crew is a nomination-based program, recommended by your company's learning organization's Leadership. Candidates will ultimately be selected by the WATS 2022 Cabin Crew Conference Leadership Team based on the following criteria.
Candidates must:
Be considered, by Learning Leadership as a high-impact, high-potential, up-and-coming, rising star within their learning organization.
Be in good standing and involved with their respective airline's Cabin Crew/Inflight Training Program (instructor, developer, support, coordination, etc.).
Obtain and submit a Letter of Recommendation from his/her airline company Learning Leader. The letter should describe the reasons (with examples) why he/she feels the candidate is qualified for the HIGH WATage Crew Program during the conference.
Submit his/her resume.
Complete and submit the online application by April 22nd 2022.
Accepted candidates will be given a special discount code for conference registration.